All You Love Jack Posts
Around the shoot house, Cody Cummings is known to often keep to himself. He does, however, keep a tight-knit circle of trusted companions. Among these individuals is the sexy, boyishly handsome Joey Hard. Cody enjoys Joey's fun-loving zest for life. When Cody and Joey are hanging out, there's seldom a dull moment.
These two are definitely good pals. And if you're familiar with Cody's style, you know scenes come out especially tight and particularly hot when he's working with someone he knows well and trusts. This time, Cody's sharing a couch with Joey as they both stretch out on the couch to enjoy an adult DVD together. When Cody pulls out his cock, Joey quickly follows suit, pulling out his own juicy piece.
Mick Roberts is back for a second video and this time our favorite horse-hung Italian guy is letting it all hang out. And it's enormous!
His thick uncut cock is dripping with precum as he pulls it out of his underwear and shows it off for the camera. He takes his time playing with is massive meat before he pulls up his legs and slides two fingers deep inside his bright pink asshole as he covers his t-shirt with a delicious load of stringy white cum. Of course, he reaches down and eats up that load.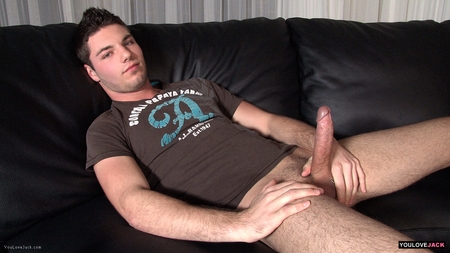 Etienne drops his pants and pulls out his throbbing cock as he grins at the camera. Etienne grabs the lube and pours a ton of the slippery stuff right onto his puckered hole. He scoops up a bunch of it and easily slides his index finger deep inside his body. Slowly he pulls it all the way out then drives it back in with a gasp. Pulling out and spreading his cheeks to expose his tortured hole as it gapes and contracts – begging to be fucked.
His face is flush with desire as he holds up his perfect uncut cock, as he strokes his tool some more. You can see the drips of precum on his exposed cockhead. It doesn't take long before he shoots a massive load of cum all over his shirt.
Marcus is straight. Not "gay porn site straight" but really straight. He admits he let another dude suck him off in the past but he's never had a cock in his mouth. Joey can't wait to guide his new straight buddy through all the ins and outs of cock sucking and even gives him his first rim job before getting Marcus to lick his balls while he shoots his load. Joey returns the favor and before you know it this once "really straight" guy is blowing his load while another dude sucks his balls!
Read our You Love Jack review or join You Love Jack and see Joey and Marcus in the full length movie.
Tommy's a man of few words and it suits him just fine. According to this hot little number, "Why bother talking about it when I can just show you?!"
Turns out he has a lot to show us too! Those brooding dark blue eyes… That tight athletic body and perfect 8 inch uncut cock… That smooth bubble but and puckered little hole – just begging to be fucked! Shut up and show me already!
He's all bundled up in a knit sweater as the video begins, but in a matter of seconds he ditches the clothes and sits back down on the couch dressed only in his underwear – his boner poking at the seams. Struggling to be free.
He pushes his shorts down and pulls the camera in for a beautiful closeup of his package as he absent-mindedly tugs at his balls. Tommy's blessed with one of the finest looking cocks this humble pornographer has ever seen. 8 straight inches of mouth-watering goodness capped off with a beautiful mushroom head – perfectly sized and begging to be sucked.
We see a lot of jack-off techniques around here and Tommy's definitely all about his nuts. In fact, he can't seem to keep his hands off his sack – tugging at the loose skin and stretching his nuts way out from his body before letting them snap back into place. Something tells me this one has a little kinky side down there…
Check out You Love Jack and see Tommy Finch stroking his big uncut cock in the full length movie.
One of the first things I asked Kerry was whether he was a top or a bottom. He paused, then replied, "I'm versatile." "So… you're a bottom", I quipped. "Ya." And is he ever! This hairy little twink can't wait to stuff one, two and then three fingers up his ass before going to town with one of our special purple jelly dildos! I guess when he says "versatile" he means "fuck me!"
He scoops up a glob of his jizz and brings it to his lips. This dirty little cum pig slops up that cum and licks his lips for more! He reaches down and coats another finger in jizz then stuffs that cum-soaked finger up his ass! Once he's satisfied that his load is deposited deep in his man hole he slips his finger out and rubs a bit more onto his asshole for good measure. His face is pure satisfaction as he lays back and relaxes. 
As soon as his ass is wide enough, the little fucker lubes up a big dildo and start playing with it, shoving it up his slowly. You can tell from the expression on his face, that he just love the feel of having a big dildo up his ass.
Check out Kerry Douglas in this full length dildo play movie at You Love Jack.
Marcus is into cum and spit and Jessie can suck himself off. Naturally we had the sense to put these two tight little fuckers together and the result is out of this world!
Jessie pushes his underwear down and bends over and licks the head of his own cock while Marcus watches in the background. Amazed, hypnotized… Jessie sees his buddy's expression and aims his massive cock at Marcus' mouth and shoves it in. Marcus pauses to gently lick the head and shaft of Jessie's cock before slipping that monster into his mouth.
Next, Jessie sits up and Marcus starts on his own cock, inching closer to his own orgasm. Jessie takes a look at his buddy and spits on his face and as soon as that slobber lands on Marcus he starts shooting. Stream after stream of steaming hot jizz coat his chest as he gets off on the cum and spit, his buddy has provided for him. This guy's a dirty little fucker and it looks good on him!
See these dirty fuckers in the full lenght You Love Jack movie.
Derek doesn't spend a lot of time fussing with his looks and he doesn't need to! From his ruggedly handsome face to his furry belly and natural physique… This one is good to go! Oh, and did I mention that monster-sized cock? It's freaking huge!
His cock head is almost as big as his fist as he strokes the shaft, watching himself the whole time. After a few more tugs he reaches inside his underwear and pulls his balls out and let me say – you think his cock is big? You gotta check out these low hanging balls. His nuts are equally as big as his cock but they hang so low they almost rest on the bed!
See Derek stroking his monster-sized cock at You Love Jack.