Etienne Martin jerks his big cock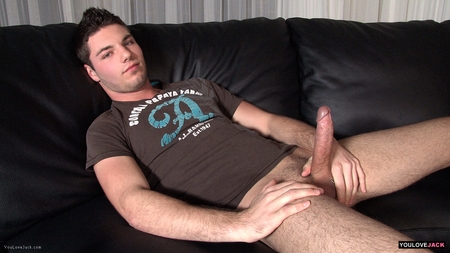 Etienne drops his pants and pulls out his throbbing cock as he grins at the camera. Etienne grabs the lube and pours a ton of the slippery stuff right onto his puckered hole. He scoops up a bunch of it and easily slides his index finger deep inside his body. Slowly he pulls it all the way out then drives it back in with a gasp. Pulling out and spreading his cheeks to expose his tortured hole as it gapes and contracts – begging to be fucked.
His face is flush with desire as he holds up his perfect uncut cock, as he strokes his tool some more. You can see the drips of precum on his exposed cockhead. It doesn't take long before he shoots a massive load of cum all over his shirt.
Comments