I love a good gay cum video, and when the guys appearing in it are a flip-flop fucking duo like Nick Ford and Adam Avery you can bet your right nut that I'll be there jacking off to it and then sharing it around with all your hardcore gay porn lovers out there.
Lucas Entertainment is one of the leading names in gay hardcore, and if you didn't know that already I would have to ask where the hell you've been! lol
Their guys are perfect, jock types, almost completely made of muscle, cock and cum. Oh, and with some hot ass that needs to get fucked too, of course.
Big Dick Darren, the sexy Waikiki lifeguard, and Horse-Hung Brian, our cute surfer / skater college boy, are back jerking off together! Watching these two young straight Island Studs with their massive boy cocks is so sexy! This is the very first time Darren has jerked off with a buddy! His girlfriend was all for it – his first male bonding experience. We love encouraging girlfriends!
After some nude work in the garden, Darren washes down Brian's sexy tan body with the garden hose. What a sight to see the boys washing each other! Check
out their pissing competition! One of the lads, we discover, becomes piss shy in front of his jerk off buddy! LOL! But the best footage of these two young big dicked boys is of them jerking off together. Check out their balls – both have giant nut sacks!
Despite their playful demeanor outside in the garden, the tension builds as they get close to busting a nut together! Also, there are some great intimate moments here! You will not believe the massive load of milk Darren and Brian release! It's a flood of boy juice!
Glenn Phillips and Devin Adams make a hot pair. These two collegiate studs get their juices flowing fast – making out and starting to grab all over each other. Devin makes the first move, going down onto his knees and swallowing Glenns cock, licking it all up and down.
Glenn loves it, and gives a try at going down on Devin. Before long, Glenn has Devin bent over and is fucking him hard and deep, slapping his ass and having a lot of fun. Devin enjoys it too, and pretty soon Devin is hanging off of the chair as Glenn thrusts his cock in and out of his tight hole. Glenn finishes off by flipping Devin over on his back, grabbing his ankles, and fucking harder until Devin blows a really nice load!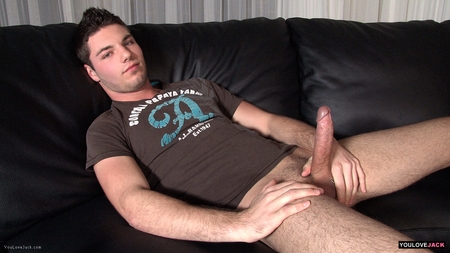 Etienne drops his pants and pulls out his throbbing cock as he grins at the camera. Etienne grabs the lube and pours a ton of the slippery stuff right onto his puckered hole. He scoops up a bunch of it and easily slides his index finger deep inside his body. Slowly he pulls it all the way out then drives it back in with a gasp. Pulling out and spreading his cheeks to expose his tortured hole as it gapes and contracts – begging to be fucked.
His face is flush with desire as he holds up his perfect uncut cock, as he strokes his tool some more. You can see the drips of precum on his exposed cockhead. It doesn't take long before he shoots a massive load of cum all over his shirt.
Mark got laid off from his job and needed to make rent, so he asked us for a loan. We said we would not be happy help him out but he would have to "work" for it. He knew what that meant, so after thinking about it he agreed. He was going to suck cock and then some!
We told Aaron we had a newbie cocksucker that needed to be broken in, without hesitation he offered his cock to be the first one sucked. However, Aaron wanted some more that just a bj, he wanted to break Mark in thoroughly… That included foot service and a rim job along with the blowjob. Mark did everything according to Aaron's specification, Mark knew who was boss. He also knew he did a great job when Aaron blew a HUGE load all over!
Colton and Devin are bored out of their minds chillin by the pool when they start wrestling and man grabbing each other. Colton feels something big poking his butt hole and looks back at Devin. Devin gives him a slight grin and pulls out an unexpected giant cock.
Colton is shocked but obsessed with Devin's 10+ inch cock. He blows the big piece of meat as good as possible, not being able to get it in his mouth completely. Devin is not yet done after the blowjob and goes for Colton's tight hole. He stretches the little hole with his big cock and pounds away. The scene ends with a major facial!
What do you say we go out to South Beach and find ourselves an unsuspecting fellow who's down on his luck and see if we can get him to suck some cock for cash? That's exactly what we do.
We find Christian and convince him to suck Derek's cock for some money, so we go behind some buildings where we find a private pool with a small tent. What better spot to get it on in with a complete stranger?! Even with the people tanning right there we still do our thing! Money inspires the craziest things in people!
The best thing is that Cristian even lets Derek fuck him in the ass. This Out In Public episode ends with a nice warm load on Cristian's ass.
Slim heart throb Drew Collins gets naked for his horny fans. He whips out the goods, massaging his floppy ball sack and jacking his irresistible erection. Watch as he shoots his load, squirting over his bad boy tattoo!