All Southern Strokes Posts
We were hanging out at Tony Newport's birthday party when Genesis mentioned that he and Tony have never hooked up either on film or off. It took us a while to get schedules lined up but we finally got Genesis and Tony out to the Ranch so we could all watch them fuck.
It seems that Tony and Genesis met at a club in San Antonio which is when their lust for each other took hold. Now I understand why Genesis was so persistent in making sure that this pairing happened. He's been waiting to hook up with Tony for over a year now.
Holy fuck I'm in love! I just don't know which of these hot uncut muscle boys I'm more in love with! lol
Robbie is the gay boy who I would absolutely fall for in an instant. He's not only handsome, he has an awesome tight little body and a really delicious uncut cock. I fucking love foreskin on a dudes dick – no cut cock tastes like an uncut dick – and whenever I get the chance to blow an intact guy I'm on it faster than a preacher on a $5 crack whore.
Haigan is the equally gorgeous darker lad in this video from the guys over at Southern Strokes, and he loves sliding his dick into a gay boys butt. So I guess he's been teamed up with the perfect boy for this video!
April, 2008 was the first time Brandon Lewis came up to the Lake House in the North Georgia mountains. He was fresh off the Florida beach with blond hair, a dark surfer tan and that good ole boy southern twang. He sat out on the back porch and we chatted a bit as he turned on that country charm.
As soon as the cameras were turned on, Brandon almost seemed more relaxed and at home. Brandon is a big strong athlete and extremely masculine but there is this softness about him in the gentle manner than he handles you that is probably his biggest charm.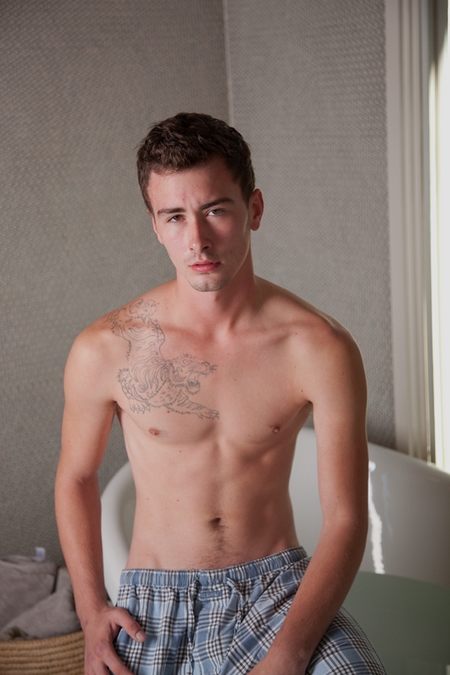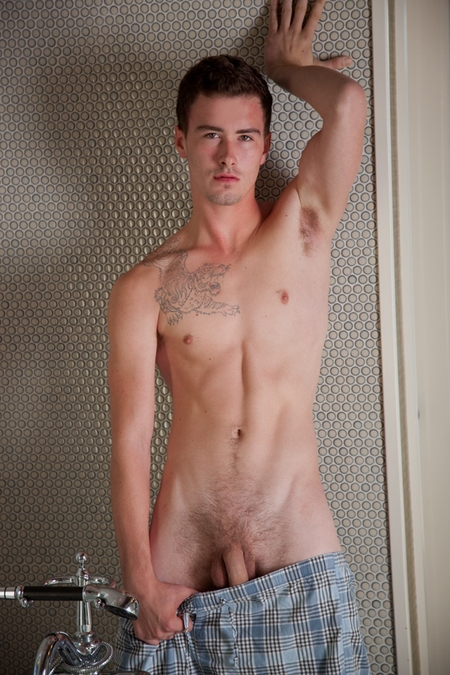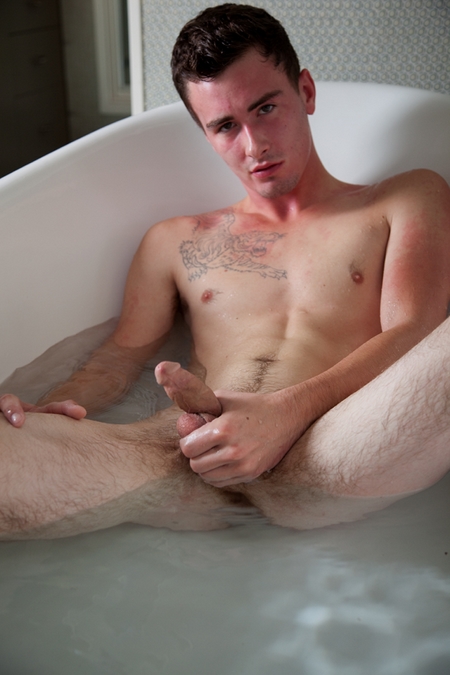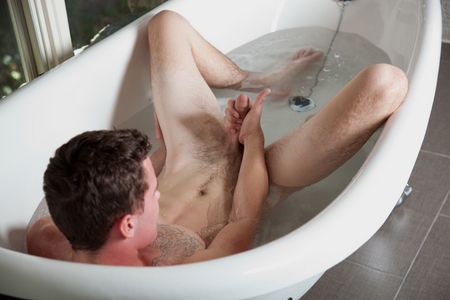 Johnny woke up real early on our second day there and came into my room and asked if he could take a bath. Of course I wasn't going to argue about starting off my day with a hot naked boy playing naked in my bathtub. I immediately woke up the crew and gathered up the equipment and filled Johnny's bath up with warm water. I can still close my eyes and remember watching Johnny dropping his pajama bottoms revealing his morning wood.
Johnny laid back in the bath and explored his body with his hands. His hands made their way down to his tight hairy hole and his fingers explored inside. Johnny stroked his hard cut cock so violently as he bit his lips and moaned. Johnny likes it ruff and he can take it just as well as dish it out. Johnny sat on the back of the tub and flexed his entire body as he worked his cock until he sprayed his chest with cum.
Jason is certainly not a shy boy when it comes to his sexual pleasures. He isn't a stranger to taking his clothes off for the cameras either. I really liked the pictures that Jason had sent us with his model application but I wasn't prepared for how hot he was going to be standing in front of me. Jason has a gorgeous face, toned body, hot cock and an amazing ass; everything you would want in a fuck buddy. As hot as Jason's face and body is, Jason's biggest attribute just might be his playful personality. Jason is definitely smart and he loves to let loose and enjoy sex.
He is always up for pretty much anything and everything. When Jason showed up I immediately took a liking to him. I am not real sure exactly what it is but there is something about Jason that just makes him incredibly sexy. He is 24 but he has this naturally smooth boyish skin that makes you just want to run your tongue up and down every inch of his body. He really knows how to turn on the charm too. Jason took off his clothes pretty quickly and started to stroke his hard cock. He bent over and gave us a nice long show of his tight hole. I could watch him pucker his ass up all day. Jason works his cock over with long hard strokes that just look so erotic. I was so happy when Jason finally exploded all over his stomach because I couldn't take much more.
Donny was referred to us by one of our models, so when he showed up at the Lake House, we were all a little unsure of what we would find. Donny is one of the most relaxed boys we have had in quite sometime. This Georgia native, is currently a student in So Cali, and with his long curly hair and toned body he really fits the surfer boy image. Being very relaxed and ready to stroke one out, it wasn't long before he was naked. Standing just 5'9 and about 160 lbs, its was a great surprise to watch his cock rise to a rock hard 8 inches in just a few seconds.
As soon as we got the cameras on, its wasn't long before Donny was 110% into what he was doing. Donny started slowly rubbing his tight hole while bouncing his big hairy balls. Keeping still was hard for Donny, I think he was more turned on that he wanted to admit.
His lean toned body looked amazing as his cock kept growing and growing, reaching just over 8 inches smooth and shinny. It wasn't long before his breathing and moans got louder and before anyone knew it he shouted out he was gonna cum, and right then he shoot his thick load all over his tight abs, continuing to stroke out every last drop. This southern boy sure knows how to put on a amazing show!
Read our Southern Strokes review check out Southern Strokes and watch Donny in the full length movie.
Tatum was referred to us by one of our friends that send us models from time to time. Tatum is 100% straight and really quite shy for being as hot as he is. Tatum is 23 years old and originally grew up in California but he has been living in Georgia for the past few years. Tatum has a few tattoos on his amazing smooth body. His olive complexion combined with his black hair and brown eyes, makes this Straight Southern Boy really stand out.
Tatum has been playing soccer since he was just a little boy at age 4. Tatum's practice and hard work has landed him a spot as a professional soccer player. As soon as he took his shirt off, you could just tell that this straight boy was athletic by his toned defined physique. Man do I wish I could spend some time in the locker room with him and the rest of his soccer team.
Tatum had never done anything like this before but it has always been a fantasy of his. He is a bit shy and it took a bit of coaxing to get him outside of his comfort zone. I think it is about as hot as it gets when you find a hot straight boy that just doesn't know exactly how hot he really is. Tatum might just takes the top prize in this category.
Once we settle Tatum's nerves, he finally let himself go. We made him nice and comfortable in the bedroom and turned on a little inspiration for him and told him to just forget that the cameras were there. We were all a bit surprised when Tatum started to let out a moan as he stroked his cock and played with his tight straight boy hole. Tatum finally let out loud gasp as his cock unloaded a huge stream of steamy white cum.
Read our Southern Strokes review or join Southern Strokes and watch Tatum in the full length movie.
Every time I see Ryan, I like him more and more. We all have our favorites here at Check out Southern Strokes and watch Ethan and Ryan in thefull length movie.and I would have to say that Ryan has rapidly become mine. There is just something about that boyish face on that tight little body and then his huge rock hard cock. I can see why our members can't seem to get enough. As luck would have it, our new boy Ethan gave us a call and said that he wanted to do another shoot. 
When we first met Ethan, he had admitted that he had a few experiences with other guys at the request of his girlfriend. As he put it I will do anything to turn her on. I asked Ethan if he would be into fucking another guy and he initially said that he just couldn't see that happening. When I asked him how he felt about getting fucked he said there is no way a dick is going to fit into my hole. After receiving numerous requests from our members to see Ethan get fucked, I took this as a personal challenge. 
I asked Ethan to check out Ryan on the site and let me know what he thought. Ethan admits that he liked sucking cock so I knew once he set his eyes on Ryan's manhood; he would be willing to come up to the Lake House to do a shoot with him. I was pleasantly surprised with Ethan's response when I told him that I wanted him to let Ryan fuck him. He was obviously a bit nervous but he said that he was willing to try anything once. These words out of Ethan's mouth were music to my ears. 
Ryan and Ethan arrived at the Lake House at exactly the same time. Ryan walked in without the girlfriend this time and you could just feel his confidence. It was really hot to see this country boy walk in with a cocky attitude ready to fuck a virgin. Ethan on the other hand was visibly nervous. He had never been fucked before let alone in front of all the cameras. We took our time and made sure that he was nice and ready for Ryan's big cock. 
This is definitely another one of those shoots that was a big surprise. These two hit it off like they had been wanting to fuck around forever. As soon as the cameras started rolling and they began to kiss, I could see both of their cocks stand to attention. Ethan couldn?t wait to get Ryan's big cock in his mouth and Ryan moaned with pleasure. Once Ethan got on all fours and Ryan shoved his big cock into his tight virgin hole, I thought that Ethan was going to shoot his load on the spot. We were all shocked as we watched Ethan take every inch of Ryan's meat in every position imaginable. Given the size of Ryan's load, we were the only ones that enjoyed it.
Southern Strokes and watch Ethan and Ryan in the full length movie.