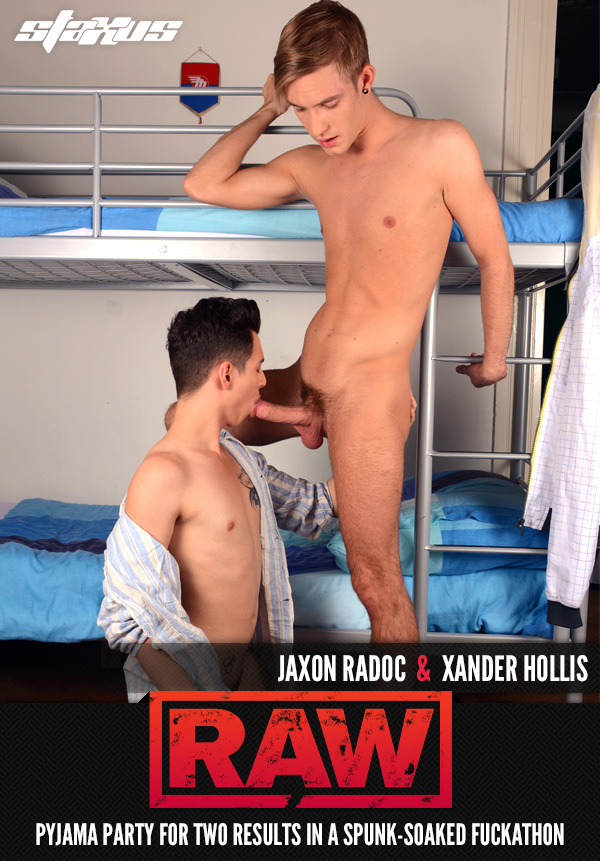 Say what you like about the electronic age that we now live in, it's sure as fuck brought people closer together – as young Xander Hollis and Jaxon Radoc are only too willing and able to demonstrate in this bunk-bed suck-and-fuck-fest! In the bad old days, of course, before tablets and all the hand-held gizmos that we've learned to love, these two beauties would've sneaked a quiet wank in their respective beds and both been none the wiser.
Str8 lad Liam is soaking up the sun and gets sprayed by Kallum; a water fight pursues, shorts come off and Kallum is soon manhandling Liam's big thick uncut cock. He gets pushed away, though just for not asking… and is soon back in the action on his knees sucking off Liam's hard, fat cock.
After a bit more foreplay Kallum is soon lubing up his ass and sitting down on Liam's fat one! Kallum's face suggests it's a stretch though after about 30 seconds it doesn't stop him riding it like a whore! The switch round and Liam is soon slamming his cock into Kallum's ass, his balls slapping around all over the place!
Kallum's ass gets a real pounding and stretch in a load of positions on the driveway before Liam pulls out and blows a mighty big load all over Kallum. Seconds later Kallum follows with his own impressive explosion. Another str8 lad happy after his first lad fuck!
Read our English Lads review or join English Lads and see Kallum and Liam flipflop in the full length movie.
This was a shoot we did up in Manchester. On the day of the shoot one of the original models pulled out, so I contacted Lewis to see if he was free. Fortunately he was, and by a remarkable coincidence, he had actually met Kez before in real life! Kez is from near Liverpool and Lewis now lives In North Wales, although he used to live in Manchester.
Anyway the boys were looking well chavvy in their trackie bottoms and tops. They were soon getting down to business as they snogged each other and gradually stripped off. They worked their way down each others bodies, with Kez being the first to pull down Lewis's trackie bottoms to get going on some deep cock-sucking action. Of course it wasn't long before Lewis returned the favour, and before long the lads switched position and startedsome horny 69-ing action.
Next the lads had some rimming fun, with each taking turns to eat the other lads' ass. Lewis also fingered Kez to get him loosened up for the ass pounding that was to follow. Lewis then bent Kez over the bed and proceeded to fuck this bad boy hard. After that Kez lay on his back, legs in the air, as Lewis plunged his dick inside his tight man hole. Dirty boy Kez loved this!
These scally lads then spunked their loads, with Lewis spurting his cum into Kez's face and mouth, with Kez licking off any remaining spunk from Lewis's cock. As a bonus we then filmed the boys having a shower together, as they soaped up and rubbed each other down.
Check out the full length movies at UK Scally Lads.
Marek Pietrak is a handsome guy with an impressive build and the lastest new model that takes viewers and Belami Boy fans by storm. See for yourself if you can resist those blue eyes and this well trained muscular toned body. His big beautiful uncut cock won't disappoint you either.
Check out Belami Online and watch Marek Pietrak in the full length movie.
Well, this pairing may not come as a surprise to those that frequent the forum – it was asked for there and so how could I possibly say "no" to such an excellent suggestion? And yes, I did leak the fact that it was in the can and since then the recorded tapes have been burning a hole in the desk!
Too hot to delay any further, we thought it was about time this horny marathon fuck was released for all to enjoy… let's hope you guys have as much fun watching it as they did making it!
Jed leans in for the first kiss and they strip themselves of jeans and boxers within minutes, both keen to touch and explore each other's hot bods! Jed is the first to taste cock and he devours Adam's delicious dick with passion.
Switching roles, Adam's experienced and hungry mouth roams from uncut cock to mouth, then to Jed's sweet ring. He tickles that eager hole with his tongue, then slowly enters pushing it just inside! Oh, and somewhere in the middle the guys enjoy a fantastic 69.
With both guys more than ready to fuck, Jed stands and Adam enters from behind… and he's soon thrusting his meat in and out with abandon! They make their way back to the bed and Adam ploughs his fat cock deeper inside Jed.
They change position again so they can face, kiss and watch each other and the added intensity puts Jed into a world of ecstasy! He's the first to send his jizz flying while his ass is filled with cock and Adam quickly follows with his own spectacular load.
Check out Blake Mason and see the guys in the full length movie.
Watch Canko and Henrich enjoying their young bodies over on Realboys4u:  The start with kissing, sucking each others hard uncut cocks before Henrich slides his big one up Cankos tight ass to give him a good and hard ride. Even after Canko blows his load, Henrich wont stop and gives Canko some extra hard fucking before he shoots his boycream all over Canko!
Watch Canko and Henrich in the full length movie at Realboys4u.
Canko bares it all. The cute and shy looking twink from Prague knows what people like about him. With his cute smile and nice and beautiful uncut euro boy meat we´re sure he will also win you over.
Join Realboys4u right now and watch Canko stroking his uncut cock in the full length movie.
BelAmi is famous for it's cute and smooth models. One of the cutest guys is Martin for sure. This dark tall guy from Eastern Europe has a smooth, lean body, hard abs, a bubble butt and a tasty hard cock. What else could we wish for ? This guy has it all.
Check out Martin's full length jerk off movie at BelAmiOnline.