Pyjama party for two results in a spunk-soaked fuckathon
August 12, 2013 · Posted in
Staxus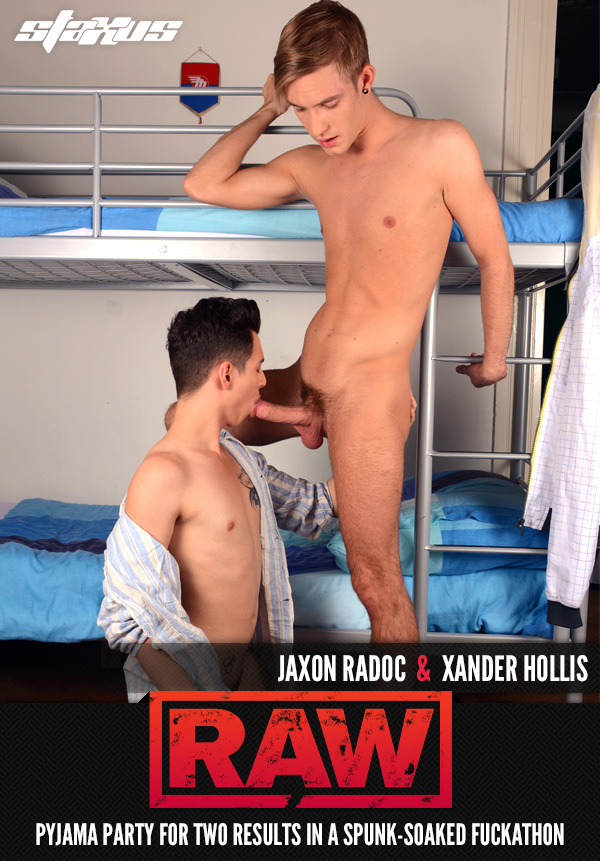 Say what you like about the electronic age that we now live in, it's sure as fuck brought people closer together – as young Xander Hollis and Jaxon Radoc are only too willing and able to demonstrate in this bunk-bed suck-and-fuck-fest! In the bad old days, of course, before tablets and all the hand-held gizmos that we've learned to love, these two beauties would've sneaked a quiet wank in their respective beds and both been none the wiser.

But having both horned themselves up via their devices, Hollis and Radoc are more than confident in turning their attentions to each other – and with the kind of raging hard-on that Radoc has sprouting between his legs it's little wonder that Hollis is so keen to jump down and give it the kind of intimate inspection that it deserves. And that in turn leads to Radoc returning the compliment, before proceeding to thrust his badly swollen shaft right between Hollis's butt-cheeks!
Suffice it to say that both lads are soon tossing their pyjamas aside whilst all this is taking place; though the fact that Hollis keeps his top on throughout gives the ensuing teen-fuck an admittedly kinky edge that might otherwise be lost. Given the sheer undeniable sexiness of both lads, however, and the simple animalistic nature of their condom-free coupling, it'll take a terrifically strong constitution not to knock out a load (or three!) before both fellows pump their wads. Most notably Radoc, whose pyrotechnic cum-shot is a fitting testimony to this first-class escapade!
Comments