This weeks It's Gonna Hurt extravaganza is painful. We brought in this cat named Cole and he was fucking scared. He new we were gonna be fucking him in his asshole but he had no clue how big the piece of meat was gonna be going up there.

Steven Ponce is back this week on ExtraBigDicks.com and is gonna help us welcome a new face to the site Mr. Sean XL. Getting Sean out of his shorts was easier than expected. Steven kneels to feign his dismay but soon the two are making out hot & heavy. Sean kisses his way south along Steven's chest as he pulls off his shorts. He takes care of Steven's throbbing meat for a while before he wants some in return.
Steven gets on his knees as Sean stands up and hauls out his massive meat. Steven struggles as he tries to take it all in his mouth. Sean's huge cock is growing by the second and is soon at full mast. Steven can't get enough of that 9″ cock as Sean starts to fuck his face with it.Sean then gets Steven on his back so he can get a taste of that smooth ass he will soon own. Steven moans and begs for more as Sean tongue fucks his sweet ass.
Once that hot ass is nice and wet, Sean suits up and sits back. Steven straddles him and sits on it. "You're big!" is all Steven can say as he gets his tight hole stretched wide. Steven then gets on all four as he bends over the couch. His hot ass is up in the air and ready for more as Sean slides his chocolate dick back inside.
His balls slap away at that hot ass as he picks up the pace pounding Steven's hot ass even harder. From there he gets Steven on his back and gets right back in that hole missionary. Steven can't hold back any longer as he explodes all over his chest and abs. Sean in right behind him as he too pulls out and coats Steven's cum-covered body.
Jack Michaels and Chance just got to town and into their hotel. Flight was rough with screaming babies and all that good stuff. The two are tired as hell, but figure they can get a quick fuck in before it's nap time. Chance's dick is so big it barely fits into Jack's mouth, but he got a big mouth and no trouble givin Chance what he wants.
He's equally adept at gettin fucked with that monster piece and Chance ain't lettin him off easy. When he wants to fuck he's fuckin and he ain't stoppin til he busts that nut. Chance cums right in that ass and then dumps the condom's load all over Jack, just in time to head on out to the club!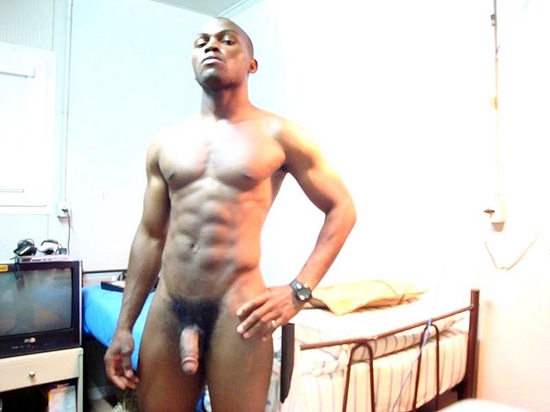 Here's Brez. A super hot black guy with awsome abs and a big uncut cock. I just wish I could lick that body up and down and suck that thick black dick. You can find a lot of his photos on Hung Black BFs. I am not sure how his photos ended up there, but someone must have sent them in. Probably a frustrated ex girlfriend or boyfriend. LOL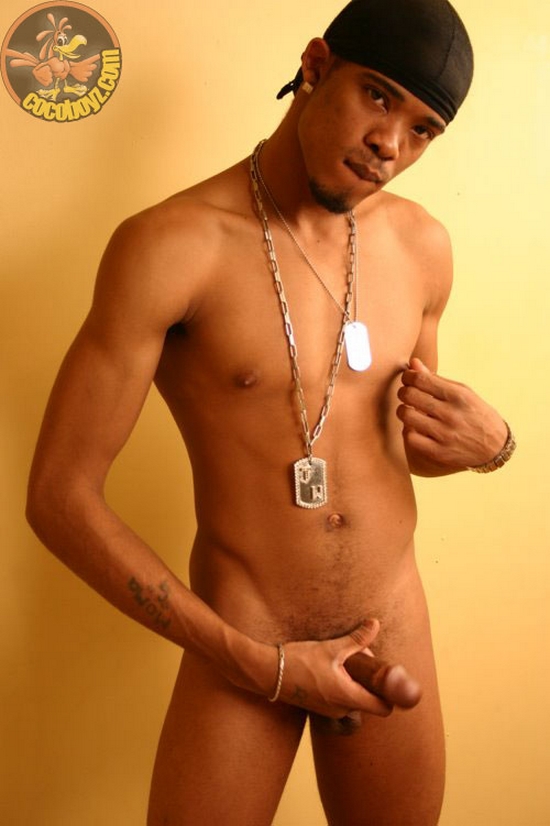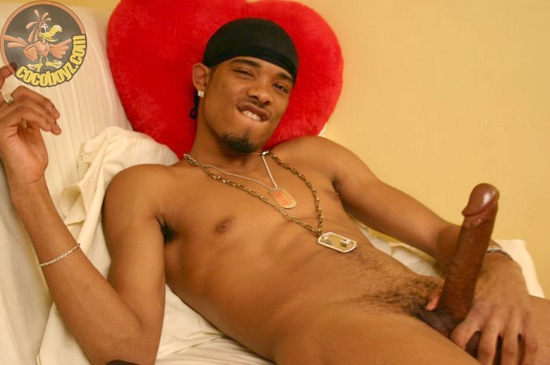 The guys at Coco Boyz have found themselves a new model, that calls himself Pimp. Even though he tries hard to look like a pimp, with all that bling – in most shots he just looks adorable. He has the cutest smile and beautiful eyes. But really… who cares about his eyes? Look at that amazing body and that beautiful big black cock! His cock is thick and straight up, ready for someone to sit on it and ride it.
Tucker is finishing up his latest car project but is running into some problems. He calls Diesel over to take a look and explains things are getting hard. "Well I'll show you something hard," says Diesel.  At that moment Diesel pulls out his hard cock. Tucker is quick to wrap his lips around that big black cock and suck it like there is no tomorrow. Diesel then flips over Tucker and slides his big cock into Tucker's ass. Enjoy this super hot fuck!