Horny firemen douse their fire with a raw flip-flop fuck
April 6, 2013 · Posted in
Staxus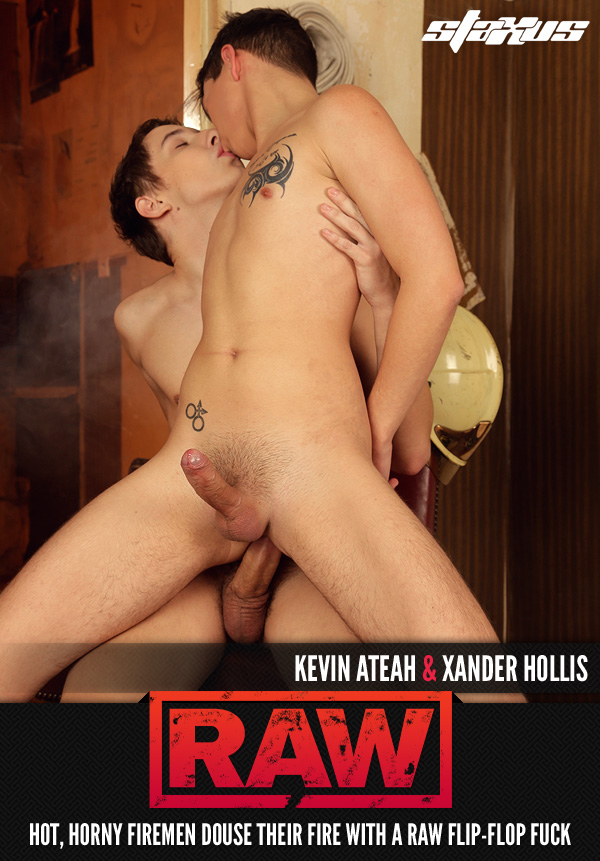 It's a well known fact that guys like firemen aren't allowed to drink or smoke (oh, the irony!) on duty, which is understandable enough; but whether that ban extends to having sex with work colleagues is anyone's guess. Either way, it's clearly not an issue that seems to bother either pretty boys Kevin Ateah or Xander Hollis, who have barely caught their breath from escaping a smoldering building when they're busily hitting it off together for a full-on session of indulgent cock-sucking and ass-rimming!

And believe us, when we say that they take the opportunity to indulge their carnal passions we really do mean that! This horny couple just can't wait to explore every inch of each other's cute, taut bodies culminating in a breathless, flip-flop fuck that'll have you reaching for the remote with one hand and your hard, aching cock with the other.
In short, there doesn't appear to be a reserved bone in either of these two boys, as they suck and fuck like a couple of wild animals for the camera, producing a veritable cascade of pent-up jizz in the process. A definite must-see for anyone who loves guys in and out of uniform, not to mention fans of cute lads with a lust for dick!
Comments