Sven Laarson bottoms for prison guard Rudy Bodlak
July 12, 2013 · Posted in
Staxus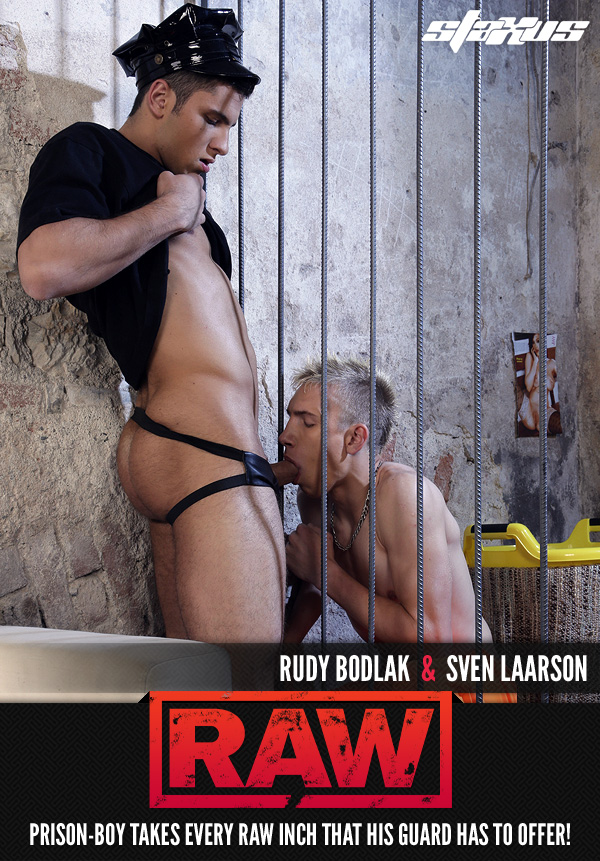 Prisons aren't exactly designed to be places of fun, but it's still difficult not to feel sympathy for blond-boy jail-bird Sven Laarson when confronted with a guard of the unpleasant calibre of Rudy Bodlak. Having said that, the sight of Bodlak's nicely upturned dick bounding out of his kinky leather pants is probably more than sufficient to ease Laarson's gripe; and needless to say the horny little prison-lad is soon down on his knees to eagerly feast on Bodlak's rock-hard offering.

An act that's promptly reciprocated; before Laarson thrusts his horny ass against the bars and allows his captor to take full advantage. You won't be surprised to hear that it's an offer that's taken up with undeniable gusto, and before you know it Laarson's out of his cell and riding Bodlak's dick cowboy-style like a real old-time pro.
Why he doesn't take the opportunity at this point to make a break for it we shall never know, although given the fact that there's still clearly plenty of fun to be had courtesy of the guard's achingly hot ramrod it's probably less of a wonder than you might think. Laarson's reward for such loyalty? An even more intense pounding over a sofa, followed by a terrific facial that leaves the boy dripping of jizz. Your sticky appreciation seems guaranteed!
Comments