Piano practice? These boys rather have a raw fuck and a face-load of jizz
May 3, 2013 · Posted in
Staxus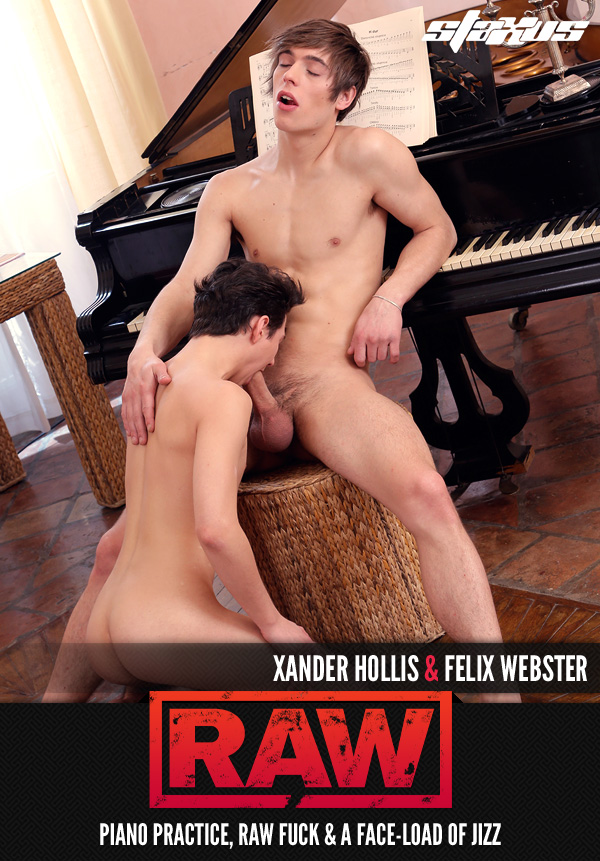 We're not exactly sure how many concert pianists practice their art whilst wearing a rather revealing jockstrap, but clearly for dark-haired beauty, Xander Hollis, it's something of a must. Perhaps the feel around his ass and cock help improve his playing, who knows?

What we can say with some level of certainty, however, is that his kinky fetish soon attracts the attention of Felix Webster, who wanders into the room with the clear intention of stopping the fellow from working the ivories so that he can work on his dick instead. An ambition that's achieved with arguably unremarkable ease. Before you know it, Hollis is down on his knees and sucking the life out of Webster's cock – a compliment that the blond boy is only too happy to return a few minutes later.
What's blatantly obvious through all this wanton fellatio, ball-sucking and ass-rimming is that it's only a matter of time before Webster's ultimate ambition – of getting his fuck-buddy's raw shaft up his ass – is achieved; so it comes as no surprise when the moment finally arrives for Hollis to start banging away at the blond lad's ass-hole with characteristic gusto. A hot sweaty, on-the-floor fuck that culminates in both guys enjoying the kind of sticky, no-holds-barred facials you folks adore!
Comments